Member Login
Welcome back friend. Login to get started.
Member Register
Ready to get best offers? Let's get started!
Password Recovery
Fortgot your password? Don't worry we can deal with it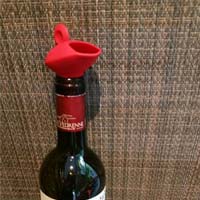 Wine Dripper/Stopper (red)
$30.0
Wine Dripper/Stopper
Stop wine dribbles and stains with this simple (yet brilliant) wine dripper/stopper. It slips easily onto bottles of any size to prevent the wine from trickling down onto the tablecloth. It also serves as a stopper to keep the wine safely inside the bottle.
Features: Made of silicone plastic. Reusable. Fits bottles of any size. Prevents drips and stains. Stop the wine leaking out.
---
Tags